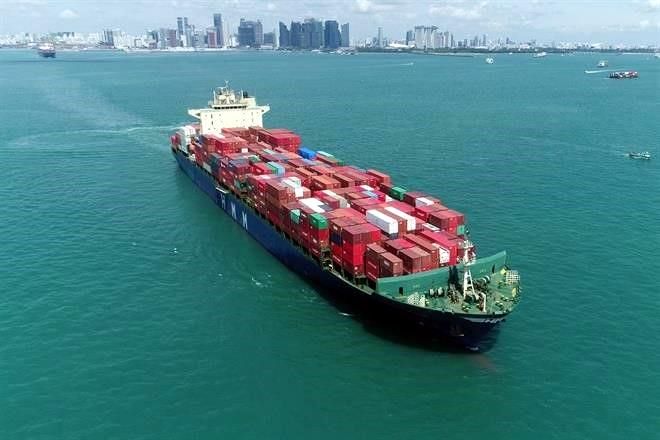 New York, U.S(29 November 2021).- A ship captain waits weeks to unload his cargo in Los Angeles. A crane operator in Savannah, Georgia, He's sitting on top of a port full of boxes. A truck driver in Alabama is delivering cargo to parking lots.
Supply chain problems have been a defining feature of the global economy in the 2021. For millions of workers, the global bottleneck has redefined their jobs.
Longshoremen, railroad workers, Truckers and warehouse personnel have worked during the Covid pandemic to handle a surge in U.S. imports, as businesses restock and retailers brace for the critical holiday shopping season. They have witnessed first-hand - and have tried to alleviate- the quagmire that has delayed shipments of everything, from pickup trucks to Christmas toys.
Here's a look at the people who work at every link in the global supply chain that moves cargo from a distant factory to your home..
WAITING SEA
Madalin Butoi waited more than a month. The captain of the Hyundai Prestige, a ship with 5 thousand containers, was anchored off the Port of Los Angeles earlier this month after crossing the Pacific Ocean.
Shipments have been delayed this year by Covid-19 outbreaks that have disrupted Asian ports and manufacturing centers. At the same time, Ships are trying to carry more containers to meet strong consumer demand in the West. That has created a delay at the port with dozens of cargo ships waiting offshore for weeks before being able to unload.. Before the pandemic, it was unusual for ships to have to wait more than a couple of days.
"I've had some delays before in South America, but nothing like this, particularly in a US port", Butoi said from his bridge, with a view of Los Angeles in the distance.
Boat, operated by Capital Product Partners L.P., of Greece, transports general cargo such as clothing, electronics and toys before the holiday season and the end of the year along with foods like beef, fish and vegetables in refrigerated containers.
To pass the time, mentioned that his crew of 19 people from Romania and the Philippines kept busy catching up on maintenance tasks and spent their free time playing basketball and table tennis.
Butoi noted that there are too many small ships waiting to enter Los Angeles.. Ships that usually come from Asia can carry around 14 one thousand 500 containers, three times the capacity of your own boat. "Now there are many small ships like ours, or even smaller, which is a testament to the high demand for freight forwarding", said. "I've never seen so much tonnage waiting to unload".
'THE SPRINGS ARE FULL'
From the cab of your crane in the port of Savannah, Justin Spencer May Contemplate Supply Chain Congestion . "The docks have a month or two of being full", Spencer said.
Ocean carriers headed to ports like Savannah, Georgia, this year as an alternative to Southern California, where dozens of ships like the Hyundai Prestige waited in the waters off the coast.
Savannah drove the equivalent of 2.3 million import containers loaded between January and October of this year, an increase of 21% compared to the same period of the 2019.
'COMMERCIAL JAM'
Trailer Mike Mattingly has hauled it all, from milk to plastic pellets. This year's supply chain problems are the worst you've seen in more than 30 years as a long-distance trailer driver.
"The term I have used is commercial jam", dijo Mattingly, from 60 years, who owns his own trailer. He's been busy delivering custom cabinets from Kith Kitchens LLC, de Haleyville, Alabama, to contractors, home builders and businesses that sell kitchen and bathroom supplies.
Its haulage business has grown steadily since the start of the pandemic, Mattingly stated, and the increase in fees has boosted their income. You are now paid about a third more per kilometer to transport a load from Alabama to Florida, for example, that before the pandemic. But bottlenecks make your job difficult.
'PUTTING OFF FIRES'
Lori Griffin's job as a reception manager at Sweetwater Sound Inc., an online retailer of musical instruments, is usually as regular as a metronome. This year has been anything but normal.
Supply chain problems have meant irregular arrivals of trailers and containers full of guitars, batteries, amplifiers and other musical items. Some days, no container of cargo from Asia arrives at the company's distribution center in Fort Wayne, Indiana. Then, another day, two containers can arrive one on top of the other, leading to an inordinate rush to download, sort and stack the goods in the building.
The unpredictable arrival of other trailers causes the most problems. The number of staff in the reception area is calculated based on the expected work, but when the trailers don't show up, find tasks to keep employees busy.
'THE FINAL LINE'
Dave Erazo sees the end of the road in the arrival of many goods to homes. Erazo, from 32 years, handles inbound operations at a FedEx Ground station in Sunnyside, Queens, N.Y., supervising workers who sort packages entering facilities and load them onto delivery trucks heading home.
Labor shortages this year at other FedEx sorting facilities have meant that hundreds of thousands of packages have been forwarded daily to intermediate locations that have enough workers to process them before they reach stations like the facility in Sunnyside.. FedEx is hiring the 90 a thousand workers before the December dates, preventing an increase of more than 10% in shipment volume compared to last year.
Erazo arrives after midnight to make preparations for qualifying overnight, when a series of trailers, either from other FedEx locations or from retailers such as Walmart Inc., they arrive with their shipments. He and other managers review volume projections for the day and plan the day.
Approximately 300 workers or more attend the shift.
The center receives around 40 thousand packages a day, but they can reach the 70 a thousand or more on busiest days.
Editing of the original article